I finally finished putting together all of my wedding invitations and got them mailed out!!!
If you remember reading
this post
I had been considering trying to DIY the whole thing, but then decided it would be too much unnecessarily stress and time spent for not very much money saved at all. I did compromise a bit though. I ordered invites online and then added my own personal DIY touch!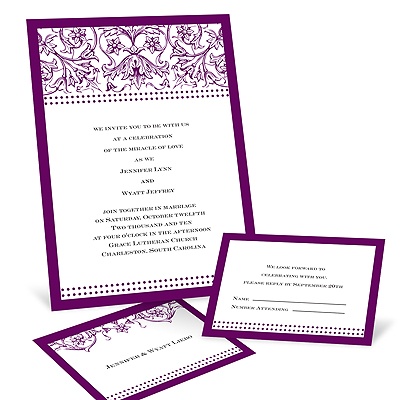 I forget how much exactly is was, but it was around $160 for a hundred invitations. I saved money by putting the reception information on the main invitation and only got response cards in addition to the main invitation. Call me cheap but I didn't want to pay an extra 50 bucks just to have a card with the reception info!!
Here's the outside of a finished invite (those large maroon boxes are obviously not really there...just for privacy purposes!!) I used a personalized stamp from
My Rubber Stamp
I had won in a giveaway for my return address. I wrote out all the addresses myself as well, I don't have the best handwriting but you can't beat the price!! I won't lie, it took awhile for me to get used to writing in cursive again! Seriously, who remembers how to write cursive upper-case letters?? Not me!!
Inside the outer envelope was plain envelope with the invitation inside!
Here's a picture of the finished product!
You've probably spotted my DIY addition, the pretty pink bow! I loved the look of invitations that came with a bow, but all the ones I found online were so expensive! So, I decided to get ribbon and just add one on myself for cheaper. (In reality, I don't know how much money I saved due to getting wrong ribbon colors once, stores charging like 12 dollars to ship 6 dollars worth of offray ribbon, and totally miscalculating how much I needed and having to pay the absurd shipping AGAIN to get more....but I digress...)
I had originally wanted purple ribbon but I could not find the right color to match the invitation (it's a "dewberry purple") so I just decided to match the hot pink font in our names, and I really like how it turned out!
These are the response cards:
I tied them up to their envelope with my mismatched purple ribbon...it doesn't look as bad if it's not right next to the dewberry purple...
After a solid afternoon of Gilmore Girls and assembling with my bridesmaids, an evening of chit-chat and assembling with another girlfriend, and alone time listening to Christmas music, all invitations were all bowed up, assembled, addressed, stamped, licked, and sent out!!
T-2 Months and 10 Days until the big day :)
This Post Sponsored By:
Never forget another birthday again with Sent-Well! Visit
www.sent-well.com
where you pick out a real card, write your personal message, and it automatically gets delivered by the appropriate date!