First off, thanks so much to all of you who entered the Button Mad giveaway, my most successful one yet!! Hello to all my new followers from Button Mad, as well, I'm so glad you are here!!
The 10 winners were Donna Lynn, Kaytee, Cherie, Annie, Meikjn, Hani @ Craftionary, Patty, Agulhas e Botoes, Kristie Dunnam, and Irene.
Congrats!! Button Mad should have already or will be contact you to get your address!
Just wanted to let you all know as well that on May 22nd I will be celebrating Meagan from
Fairly Fabulous
's birthday with her Party like it's 1999 birthday giveaway shindig!!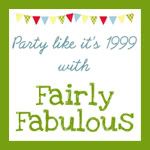 I will be giving away one of my popular
Pearl Button Rings
from my
Etsy shop
!
And speaking of my Etsy shop....I am also taking part in Summer Daze with
While He Was Napping
from June 6th -11th.
I'll be giving away 20 bucks to my
Etsy Shop
!
Yay! Exciting things ahead.
Also, I have openings for giveaways on my blog if you are interested! I give away at least 1 month of free advertising on my sidebar and write up a nice little post about you :) Email me if interested!! mygirlishwhims@gmail.com