Learn How to Crimp
This jewelry lesson is by far the easiest and most important to learn when starting to make jewelry. After you learn how to crimp you can make endless different kinds of necklaces, bracelets, and ankle bracelets. Once you learn how to crimp you can experiment with different patterns and types of beads and make all kinds of jewelry just in your style!
To demonstrate how to crimp I whipped up this simple but elegant strung necklace this afternoon:
for sale
in my etsy shop!)
Here's how to make it!
Supplies Needed
Beading wire, needle nose pliers, wire cutters, crimp beads, clasp, and beads of your choosing. I choose to use rose quartz beads and metal spacers.
I'm using tiger tail as my beading wire, which you can get at Michael's or Joann's. It's strong and cheap, but kinks easy so beware of that. Beadalon or Softflex are higher quality beading wire, but also a little more expensive.
Steps
Step 1:
Cut a piece of beading wire using wire cutters a few inches longer than your finished product will be. My finished necklace is about 19 inches, so I cut my wire to 22 inches. It's ALWAYS better to have to more to work with!!
Step 2:
String on a crimp bead and one end of the clasp of your choosing.
I choose to use a pretty heart toggle clasp.
Step 3:
Loop the beading wire back over the clasp and through the crimp bead.
Step 4:
Squeeze the crimp bead shut using needle nose pliers. There are also tools out there called crimpers that allow you to crimp the bead twice, but in my experience when I use a crimper my crimps tend to break. Once and done with pliers will just just as good, if not better.
Step 5:
Trim the excess wire off using wire cutters.
Step 6:
String on beads.
Step 7:
Crimp the other end of the necklace the same way shown above, just use the other end of the clasp. Be sure to leave a little extra wire before the crimp bead so the beads have a little room to move around and don't grind on each other so much.
Trim off the excess wire, and you are done!
A beautiful necklace in only 15 minutes.
Now that you can crimp, the possibilities of different kinds of necklaces and bracelets are endless! I love sitting down with a specific color pallet of beads and playing around until I find a pattern I like and then I string them.
Missed a jewelry lesson post? Learn about different types of beads
here
and learn about the jewelry supplies I use
here
!
Up next week: how to make earrings! Be sure to come back and check!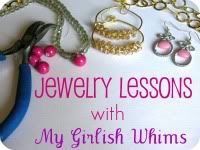 I'll be linking up to these parties: