How to Wire Wrap: Part 2
Ready to learn how to do some more wire-wrapping? Today I'm going to show you how to wire-wrap a pendant with these pretty crystal earrings!
Note: These are also available for sale in my etsy shop. I can also do kits for the supplies if you are interested. Scroll to the bottom of the post for more info.
Supplies:
Around 22 gauge wire, two small jump rings, two earring wires, two crystal briolettes, needle nose pliers, wire cutters, and round nose pliers.
Steps
Step One:
Cut two pieces of wire around six inches long with wire cutters
Step Three:
Bend the two ends of the wire across the top of the briolette to form a triangle
Step Four:
Grasp the middle of the triangle with bent nose pliers. Straighten the longer piece of wire out and then begin to wire wrap the small tail of wire around the long piece.
Step Five:
Keep this wire wrap short - only two or three wraps. Once done, trim off any excess wire with wire cutters.
Remember to push that little extra piece of wire around the base wire with needle nose pliers - as you can see from this picture I did not do a very good job with that! (I fixed it later)
Step Six:
Grab the top of the wire with round nose pliers and bring it down to beneath the wire-wraps you just made.
Begin to wire wrap underneath of the other wire wrap, continuing down onto the crystal.
It should look something like this when finished:
Step Seven:
Trim off excess wire when you are done wrapping. Use pliers or your thumb nail to wrap the tail against the crystal.
This technique takes a litttttle bit to get used to. You can see that the second one I did looks a little nicer:
Here are both:
Step Eight:
Open up a small jump ring and loop it through the top loop you formed on the crystal, as well as an earring wire.
Close up the jump ring, make a matching earring, and you have a set of beautiful briolette crystal earrings!
Not as scary as it looks, right? You'll be on your way to becoming a jewelry-making pro in no time!!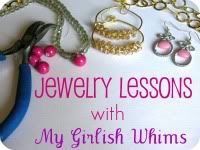 This post sponsored by:
Girly Template
Girly template offers many cute girly iphone cases (check them out here!) as well as many other girly products like teapots, plates, and t-shirts that can be custom made!
I'll be linking up to these parties: