Learn How to Make Simple Earrings
Earrings are one of those great accessories that are fast and easy to grab while running out the door to make up an outfit. The most simple form of earrings are also extremely easy to make! In this tutorial I will show you how to make simple earrings which can be made into TONS of different varieties by just using different beads!
These are the earrings I made: I love the natural and almost tribal look of them!
Here's how to make your own!
Supplies Needed
To make a simple pair of earrings you will need two headpins, assorted beads, two ear wires, wire cutters, round nose pliers, and needle nose pliers.
Steps
Step One:
Gather a variety of beads you like, create a pattern, and put them onto two different headpins.
My wooden beads had holes that were to big for the headpins (would have slipped right off!) So I put a small wooden bead on first.
Step 2:
Using needle nose pliers, grab the headpin right above the beads and bend to a 90 degree angle.
Step 3:
Using wire cutters, cut off the excess wire from the head pin: you really only need a little over a 1/4th of an inch to create the loop.
Step 4:
Using round nose pliers, grab the wire at the very end and twist it around the curve of the pliers to form a loop.
Step 5:
Add on an ear wire, and then squeeze the loop shut using needle nose pliers.
And that's it! I told you it was simple, didn't I??
Simple, but still has a professional, finished look. And you can customize it using any different types of beads and colors that you want!
Missed a jewelry lesson post? Learn how to use crimp beads
here,
learn about different types of beads
here
, and learn about the jewelry supplies I use
here
!
Up next week: How to Use Jump Rings! Be sure to come back and check!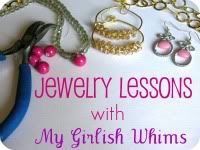 I'll be linking up to these parties: