Learn How to Use Jump Rings
Jump rings are used in SO many different jewelry projects. Their basic use is to connect two components together. They are especially useful if one of the components such as a charm or clasp has a closed loop connector. A jump ring opens and closes very simply with a pair of pliers, as will be demonstrated below.
There are various kinds of jump rings. Most are circular, but they also come in various gauges, metal types, and there are some specialty shapes such as the star and square below. A slightly different kind of ring is a split ring which is a little sturdier, and will be explained later.
To show you one use of a jump ring I made this key necklace which is available in my
etsy shop
.
Here's how to make it!
Supplies Needed
Chain, clasp, various beads, key charm, jump ring, spring ring, headpins, wire cutters, needle nose pliers and round nose pliers.
Steps
Grab a jump ring and your needle nose pliers
Grasp one side the jump ring with the pliers and the other side with your thumb and pointer finger. Slowly twist the jump ring to the side to open it. Here's what it should look like when you are done:
Do NOT pull the jump ring open- this messes up it's shape. Always twist to the side.
After you have opened the jump ring, string on a key charm and a split ring.
Twist the jump ring sideways back the way you opened it to close it.
The different between a split ring (right) and a jump ring (left) is that a jump ring is made of only one wrap of wire and opens easily with one twist. A split ring is made with multiple wraps of wire and to open it and get a component on to the loop you have to twist it around the different wraps of wire. A split ring is more sturdy and holds up better in jewelry, but it is pretty difficult to work with. They make special pliers to help open them, but it is still a little tricky.
In this project I used a jump ring to connect a charm to a split ring. I used a split ring because that is the ring I will put the necklace chain through and will get the most stress while worn. A jump ring would also work, but the split ring will be sure to hold up better.
Next make some charms out of assorted beads and headpins and connect them to the split ring.
See all the different parts? It goes key charm, jump ring, split ring, charms.
Lastly, thread your chain through the center of the split ring and attach a clasp to the end of it.
Now you've got a cute key necklace AND are a master of jump rings!
To get an idea of the other ways jump rings are used, check out some of these other pieces I have made:
Pink Scroll Earrings
Swirl Heart Charm Necklace
Hammered Black Chandelier Earrings
Missed a jewelry lesson post? Learn how to use make earrings
here
, crimp beads
here,
learn about different types of beads
here
, and learn about the jewelry supplies I use
here
!
I will probably be taking next week off from jewelry lessons since I will be GRADUATING COLLEGE (!!) and moving back home...but check in again in two weeks for another lesson!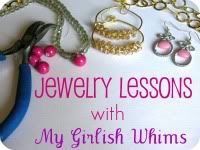 This post sponsored by:
The Online Bling Store.
Your one stop store for hot fix rhinestones, iron on transfers, and bling craft accessories.
I'll be linking up to these parties: