There is something about Sunday evenings lately that always have me wanting to make soup! I still consider Sunday evenings the weekend though so I don't like to spend a ton of time in the kitchen (less time cooking means more time I get to craft!!!), but I do like to make some type of home cooked meal to enjoy with my hubby on Sundays and lately that has been soup!
This weekend I made a Chicken and Rice Vegatable Soup that came together super quick with the help of a Knorr Chicken and Broccoli Rice Side but still had that yummy taste of homeade soup. Ever since I've started on this soup kick both hubby and I have become a little bit of soup snops...canned soup just no longer tastes any good to me!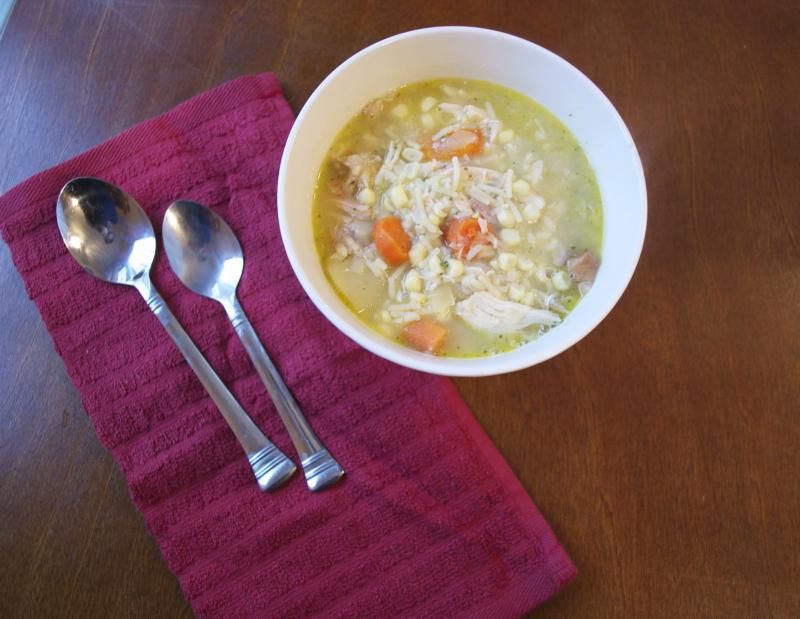 The secret to making this homeade soup super yummy is to use a good selection of fresh veggies.
The
recipe
that I tried out from Knorr actually called for peppers, zuchinni, and celery, but I really don't like any of those veggies. Hah!! A little picky am I?? Well, that's the nice thing about a veggie soup, you can substitute other veggies that you prefer instead! I kept the onions (not pictured) but substitued in carrots, potatoes and corn.
After you have your veggies picked out and chopped up, the rest is easy! I cooked my veggies in my dutch oven with a little olive oil and thyme and after they are done you just add in chicken broth, water and the Knorr Chicken and Broccoli Rice Side. Bring to a boil and then cook for ten minutes. Add in some shredded chicken (I just picked up a roasted chickn from the grocery store so I had one less thing to cook!) and then you are ready to serve!
Ingredients
1 Tbsp. olive oil
3 medium red bell peppers, chopped
1 3/4 cups chopped onion
3/4 cup zucchini, halved lenthwise, then sliced
1/2 cup chopped celery
1/4 tsp. dried thyme leaves
2 cans (14.5 oz. ea.) reduced sodium chicken broth
1 1/2 cups water
1 package Knorr® Rice Sides™ - Chicken flavor Broccoli
2 1/3 cups shredded cooked boneless, skinless chicken breasts
Directions
Heat olive oil in 12-inch skillet over medium-high heat and cook vegetables and thyme, stirring occasionally, until vegetables are tender, about 6 minutes.
Add broth, water and Knorr® Rice Sides™ - Chicken flavor Broccoli. Bring to a boil. Reduce heat and cook covered 10 minutes or until rice is tender.
Stir in chicken and serve immediately.
The Knorr Rice Sides are available at Giant Eagle. Using them in this receipe made my meal come together super quick and still packed a ton of flavor in each spoonfull. A win-win for me: less time in the kitchen and more time crafting during the afternoon and then snuggling when dinner was done with a full and happy husband!!